There are a lot of great reasons to get out of town this month, thanks to cheap-o airfares, good eats and the inevitable budding of flowers. Plus, if you're smart about where you place that pin on the map, you can even trade some rainy days for sunshine. Here's both the best of the best in travel this month, whether you're looking for experiences, deals or both.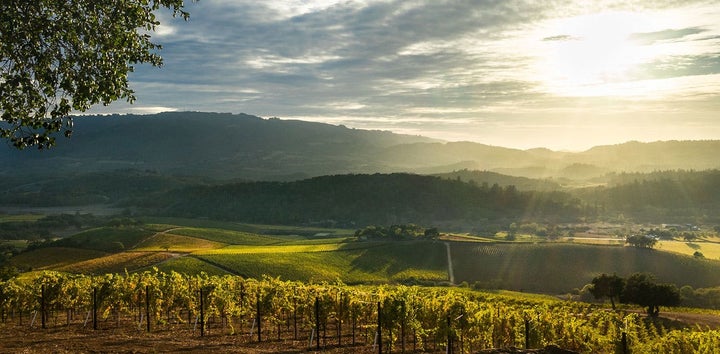 1. Sonoma Valley, California 
Some of our favorite things to do in the valley include hot-air balloon rides, olive oil tastings and exploring a museum dedicated to hand fans — yes, you read that correctly. But despite all these great activities, we all know and love this California wine region for its, well, wine, of course. When it comes to planning a wine-focused itinerary, you'll want to sip and play croquet on the courts at Sonoma-Cutrer Vineyards, tour the 140-year-old stone cellars — with a glass in hand — at Simi, or just savor the yummy Pinot Noirs and Chardonnays at the tasting room at La Crema.
Why you should go in April: With relatively low fares into SFO from across the country this month, according to SkyScanner, you can be enjoying wine country in no time. And then there's the wine sitch. From April 6 to 8, the second annual Signature Sonoma Valley means a long weekend full of vino tasting events coupled with exclusive access to vineyards as well as the growers and vintners themselves. Guests who attend can taste hard-to-find vintages or wines from the private collections of legendary winemakers, get a behind-the-scenes look at the winemaking process or chow down on brunch paired with sparkling wines made in limited quantities. Couple that with access to private venues (read: hard-to-Instagram places) and homes not generally open to the public and we'll happily raise a glass.
Where to stay: Located on a 50-plus-acre ranch, this tiny house-style cottage is a Sonoma steal, priced at $150 a night. Meanwhile, if you're looking to splurge, the Fairmont Sonoma Mission Inn & Spa offers posh digs, a Michelin-starred restaurant and one of the Sonoma's finest spas.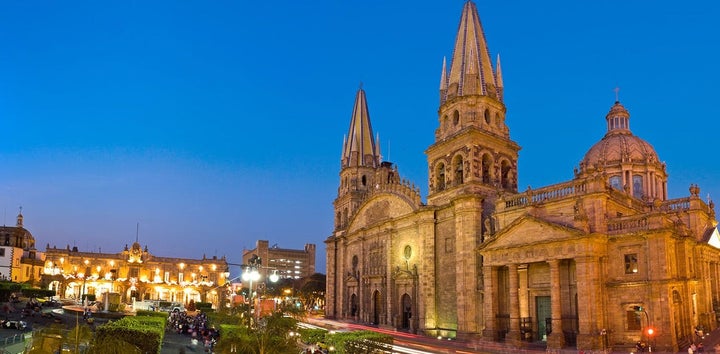 2. Guadalajara, Mexico 
This large, landlocked city often gets ignored by travelers to Mexico, but its rich history and young, student-friendly energy and party vibe make it a must-visit. Explore the incredible and Instagrammable-at-every-turn Tlaquepaque craft market, bite into a torta ahogada and take in some authentic mariachi music — after all, this is where it was born. Guadalajara can also be a great starting point for travelers looking to visit Tequila Valley, which is just over an hour away. Here, you'll want to stop by the distillery and tasting rooms of some of your favorite tequilas. You can even park it overnight at Casa Noble, where you'll find agave views at every turn.
Why you should go in April: With no chance of rain, and temps creeping upwards of 90 degrees, you can start working on your summer tan — with adequate sunscreen, of course — a little earlier than usual. Also, flights from the U.S. are pretty cheap at the moment.
Where to stay: Speaking of deals, travelers to Guadalajara will be spoiled with luxe options under $200 a night (as of press time), like the Hotel Riu Plaza Guadalajara and the Hyatt Regency Andares Guadalajara, which both have plush, contemporary high-rise vibes.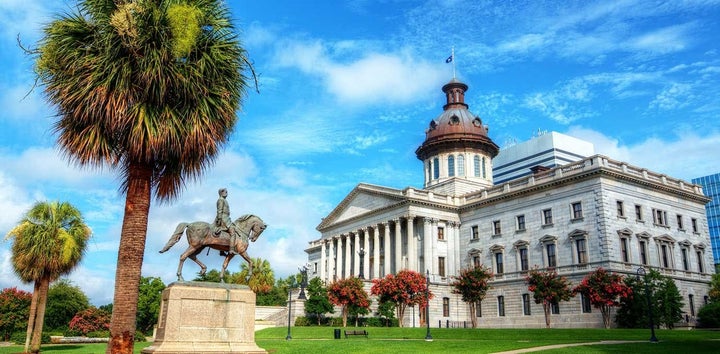 3. Columbia, South Carolina
Everyone has Charleston on their bucket list, but there's another South Carolina city that's about to pop thanks to a recent urban revival. Known as Soda City (since it's abbreviated as "Cola"), Columbia's compact, walkable downtown has a small-city feel with big-city things to do — from upscale restaurants and shopping to art museums — making it ideal for a long weekend. Spend a morning here exploring the Soda City Market, tour the historic Robert Mills House & Gardens, grab brunch at former motor supply company aptly named Motor Supply Co. Bistro. But most importantly, do not leave town without planning a trip to Lula Drake, a cozy wine bar rich in history. (It has a blue cheese tasting plate on the menu, too, if you're into that kind of thing.)
Why you should go in April: For one — flights are cheap, which usually isn't the case when a destination is experiencing some of its best weather all year. (Read: Warm, comfortable days without humidity.) Plus, it's a month for music lovers, with the River Rocks Music Festival happening on the Congaree River and the heavily anticipated Love, Peace, & Hip-Hop festival taking over downtown.
Where to stay: Aloft Columbia Downtown, a brand-new, trendy hotel within walking distance to everything, that has comfortable rooms and a communal bar that welcomes guests in the lobby each night.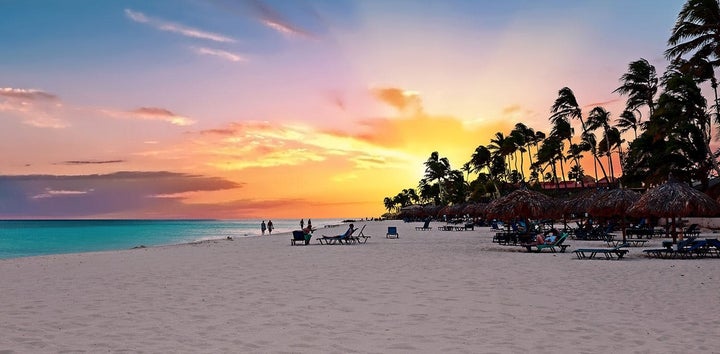 4. Aruba 
Unwind and slip your toes into the beautiful white sand of this Dutch Caribbean island known for its picture-perfect beauty. Once you've landed in paradise, you can spend your days on Eagle Beach or Manchebo Beach for a little R&R or explore the island by ATV or catamaran cruise around the island. There's a fascinating farm that doubles as a butterfly sanctuary for nature lovers and lots of romance to be found — like at a Frank Sinatra-themed dinner show — if you're traveling with bae.
Why you should go in April: This month marks the end of the busy season in Aruba, meaning better prices on flights and hotels, with the weather remaining a beautiful mid-80 degrees and sunny virtually every day.
Where to stay: The splurge-worthy Ritz-Carlton, Aruba is located on one of the most coveted stretches of beach on the entire island and just recently debuted a new restaurant, Casa Nonna, which focuses on old-school-style Italian goodness. At the more budget-friendly Hilton Aruba Resort & Casino, you can keep things interesting at the tables and slots after the sun goes down. There's also a daily schedule full of ways to keep active on the property, like yoga, Zumba, and boot camp-style classes—should you want to get in a good workout on vacay.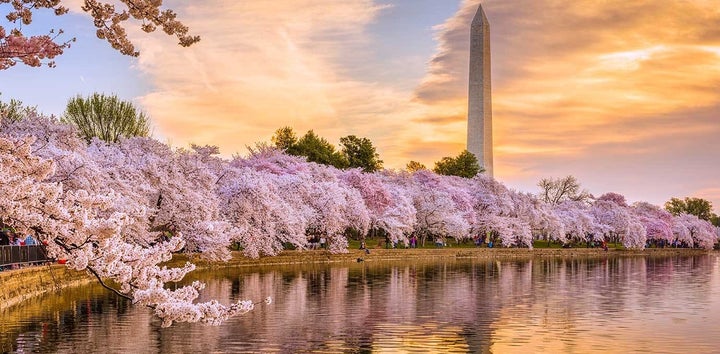 5. Washington, D.C. 
The nation's capital is home to so much history, art and culture, and every year there is more to explore, like looking for President Obama's Kehinde Wiley portraits at The Smithsonian or the Newseum's Pictures of the Year exhibit (open April 6), which showcases groundbreaking photography from seven decades of award-winning images from the archives of Pictures of the Year International. When you're done being all cultured, you can cruise the shops at Dupont Circle or visit nearby Old Town Alexandria, Virginia, a historic neighborhood with boutiques like the Penny Post, a paper store where you can take modern brush lettering classes.
Why you should go in April: The National Cherry Blossom Festival means ethereal pink-and white-hued-flowers coming into bloom all around you (and the million visitors they draw to D.C.'s Tidal Basin each year). It doesn't get more dainty then following up your flower peeping with tea service at Park Hyatt Washington D.C.'s Tea Cellar, featuring small plates like cherry blossom macaroons in celebration of the season. While the Cherry Blossoms means slightly higher hotel rates, airfare and train tickets are relatively cheap, and it truly is the best time to see D.C.
Where to stay: Luckily, options abound at every budget level in this big city, from Airbnbs with Victorian-era details to more opulent digs at The St. Regis Washington, D.C. Meanwhile, at the moderately priced Hyatt Place Washington D.C./U.S. Capitol, visitors can even take advantage of a Cherry Blossom package, which includes a high floor room upgrade (ideal for blossom viewing), a discount on food, late checkout and a souvenir cherry blossom tote bag.