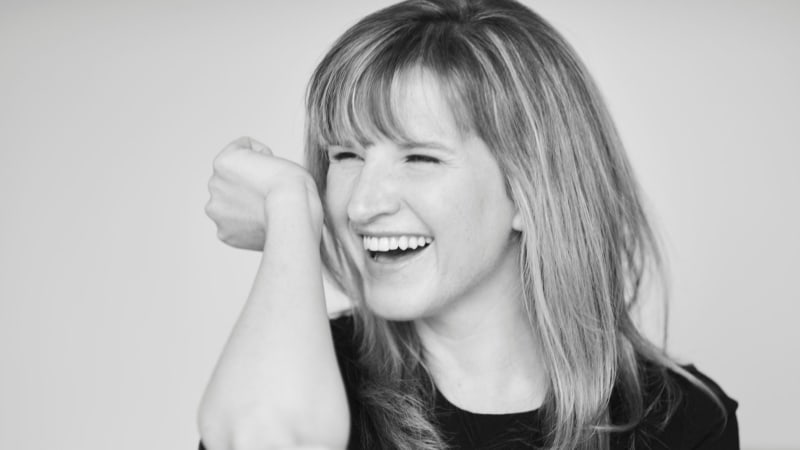 Her father Gene – a pseudonym – saw the forces of Satan everywhere. Family members weren't allowed to see doctors, and they weren't allowed to go to school, which was just a government plan to "lead children away from God". Four of the seven children didn't have birth certificates.
They were homeschooled. Except that they weren't. "Doctors were Sons of Perdition," Westover writes. "Homeschooling was a commandment from the Lord."
They spent their days preparing for the Days of Abomination, stockpiling food, fuel and guns. The forces of what Gene called the Illuminati, that had to be guarded against, were surrounding them, waiting to corrupt his children and lure them to Lucifer.
Tara worked in her father's junkyard with several of her siblings, sorting steel from aluminium. There were regular accidents, serious injuries and near disasters. Gene was cavalier in his working methods. Health and safety? No, sir.
Westover's mother, Faye, was an unlicensed midwife but eventually concentrated on her talent as a herbalist, a move that turned into a substantial business. When Gene suffers an appalling burn after trying to remove a car's fuel tank without first draining it of petrol, his face is ravaged, lips burnt away, torso red raw. She treats him with her oils and he refuses painkillers because it is "the Lord's pain … and he would feel every part of it".
Later he tells people of the heavenly visitations he had and how he had been ministered to by angels. The miracle becomes a "foundation myth" for the expanding business and her mother's employees become virtual disciples.
Westover suffers appalling brutality at the hands of her elder brother Shawn, to whom she was once close but whose personality changes dramatically after a head injury.
The arc of the book, as the title suggests, is Westover's decision to get an education; that education becomes her means of escape from a family, from whom – with the exception of three of her brothers – she is now estranged. She decides to follow her brother Tyler and go to the Mormon university, Brigham Young, in Utah.
It is not an easy process for someone who hasn't set foot in a classroom, but she perseveres. A scholarship to do an MPhil at Cambridge is followed by a Harvard fellowship and a PhD at Cambridge. All within 10 years.
How does her father react? "The Lord has called me to testify," he says to her. "You have cast aside his blessings to whore after man's knowledge."
In one of the book's two epigraphs, Westover cites John Dewey describing education as "a continuing reconstruction of experience". She says her book is "a renegotiation of memory and of narrative and who gets to tell a story … it is about story and how stories get constructed as you're experiencing them and in the years after".
She wanted to write a story about education that was broader than the widely accepted institutionalised idea of it.
"I do think we have collectively begun to conflate the institutions of education for education itself," she says. "Education is an individual's pursuit of understanding and has a lot of implications for that person, for the kind of person that they are.
"In a way, I feel a lot of the most important bits of education for me in the book and the manifestation of that and the effect it had on who I was and the knock-on effects it had on the relationships I had with my own family, that had nothing to do with Harvard or Cambridge.
"Some of the most important elements were books I read on my own or they happened at BYU or people I met and conversations I had, so I wanted to offer this idea of education more than a narrow, political definition that we're starting to get."
Her father always told her that she could teach herself more than anyone else could teach her. She found she had the patience to read books at home that she couldn't understand.
"Anyone who grows up reading the Bible for spiritual reasons, you get accustomed to reading things that are too much for you, too profound for you … Having that belief that you should read them anyway gives you a great advantage over people who only read what they think they can understand."
Not surprisingly, she had massive gaps in her knowledge of the world. Occasions such as in her early days at BYU when she asked what the Holocaust meant happened a lot.
"Coming to terms with that just put me in shock, learning about something awful and learning about the depths of my ignorance. I had been brought up to believe I had received an education …
Another lightbulb moment was learning about the civil rights movement and the word "nigger", which Shawn often called her.
"There was a massive gap that I could feel between how I heard that word just a few months before and how I was hearing it now. A very different understanding of what the word meant. But also of the kind of role my family was playing – passively or because of ignorance or because of wilful ignorance – just the role we were assuming in perpetuating this whole vernacular that had no purpose other than to dehumanise other people."
The final break with her parents comes over brother Shawn's violence. Her parents would not accept what they had been told by her, by Tyler and her sister Audrey. They visit Harvard, wanting to take her to the Sacred Grove in Palmyra where God is said to have appeared to Joseph Smith, the founder of Mormonism.
Her father offers her a blessing, what she calls "terms of surrender" that she cannot accept because "what my father wanted to cast from me wasn't a demon: it was me".
Westover had never written narrative until she started Educated four years ago. She hadn't read many novels. "I had to come to terms with the fact that I didn't have the skills I needed. Academic writing is such a different way of writing."
Discovering short stories helped. "They were a very good form for me. The way a short story has to be designed in order to function, to get in everything it needs to and they tend to be absolutely chock-a-block full of mechanisms and tricks that writers use to do the things they need to and have the effects they need to have."
She would listen to the New Yorker fiction podcast, on which there would be a discussion about a particular story. "I found that to be the best curriculum because they would point all the stuff out for you and once you'd seen it you'd start to recognise it in other places and pretty soon you can steal it effectively. This method of learning just really lent itself to the way I had been taught to learn."
Writing Educated was therapeutic but not therapy. The difficult parts were not what she expected – the violence or the "more miserable moments with my parents towards the end" – but "the beautiful things, the way the mountain would look in the springtime, memories I had of canning with my mother; these were things that in my childhood that I'd loved the most and these were things than I'd lost. In a way I had reconciled the bad in my life, but I don't think I'd really reconciled the good."
Her writing is powerful enough that there are frequent moments in the book when she is heading home and the reader wants to warn her, to tell her: no, don't go.
"It took me a long time to come to terms with my decisions to let go of some of those relationships and it's taken me even longer to come to terms with, to in any way forgive myself for making that decision."
So has she forgiven herself?
"Mostly. Some days more than others."
Educated is published by Hamish Hamilton at $32.99. Tara Westover is a guest at Sydney Writers' Festival, April 31-May 6, swf.org.au.
Morning & Afternoon Newsletter
Delivered Mon–Fri.