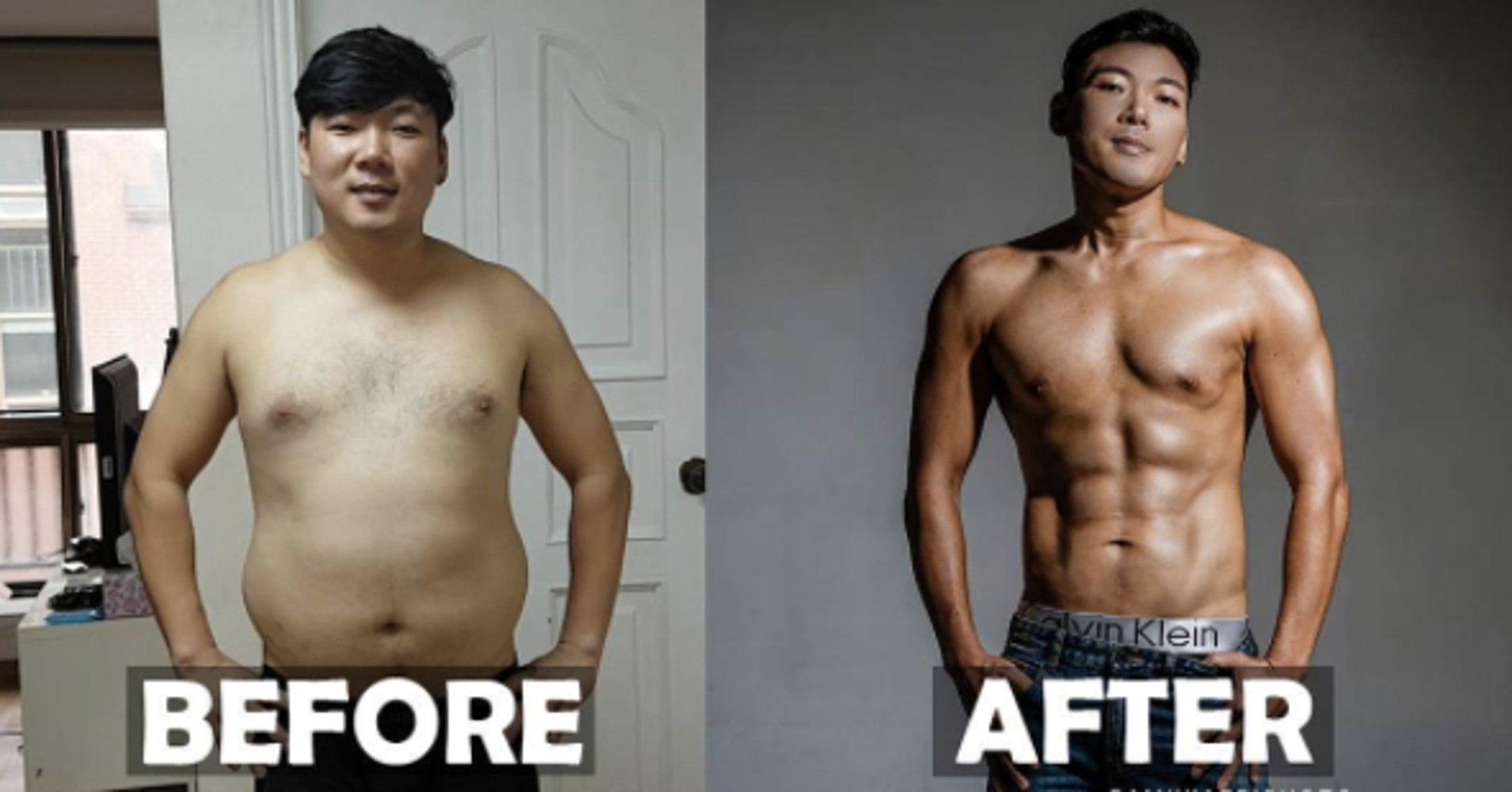 Meet Hugh and Nichola Gwon, the husband-and-wife team behind the popular web comic series "My Korean Husband." They both come up with the ideas for the comics, then Nichola draws them, hence the title. 
The Seoul, South Korea-based couple have been married five years and document their love for each other in their comics, which they recently turned into a book.
They also document their love for food like tteokbokki, which are spicy, stir-fried Korean rice cakes. 
Recently, though, Hugh decided to get fit and healthier for the children he and Nichola plan to have.
Hugh told HuffPost he's wanted to slim down for a while, but simply lacked the motivation. When the couple started IVF treatment and he saw how difficult the process was on his wife, he gained all the inspiration he needed. 
"When I saw Nichola struggle and what her body had to go through, I wanted to do something for her," the 34-year-old told HuffPost. "IVF is most hard for the woman. I wanted to share the burden."
"We had a failed round of IVF and the doctor said it was a difficult case," he explained. "I was starting to get health problems from my weight, too. I thought about what I could do, and realized we might have a better chance if I were healthier." 
He was on the right track. A recent study suggests exercise ― specifically moderate, steady cardio like jogging ― can significantly improve the quality of a man's sperm. 
Calling the project "his last chance," Hugh set out to lose as much weight as he reasonably could. He started his fitness journey six months ago at has since lost about 50 pounds. He credits a quality diet and consistent visits to the gym. 
His transformation, shown here in a before-and-after photo, is seriously impressive:
"That [after] photoshoot was one of my goals," Hugh said. "It might seem strange in western countries, but it's normal in Korea; it's called a 'body profile pic' and it's a good way to document achievement and nice to look back on, especially when you're older." 
Getting ripped for fatherhood (and an Instagram-worthy photo shoot) meant first working on his stamina. With the help of a personal trainer, Hugh focused on circuit training. When his stamina improved, he ran at least three times a week and also did home workouts using YouTube videos. After a while, he went hard at the gym.
"I think I had tried so many times and I failed because I didn't have proper strategies and focused on just losing weight, not why I wanted to lose it," Hugh said. "This time, I had proper goals and motivation to do it." 
Vlogging about the experience on YouTube meant he couldn't easily give up, unless he wanted to hear about it from the followers in the comments section.
As the couple's comics have shown, his fitness journey hasn't always been easy, especially the diet part.
"I just tried to cut down food portions and didn't really drink much alcohol," he said. "When socializing with friends, I had to avoid a lot of food and drinks." 
Through it all, he says Nichola was incredibly supportive, cooking healthy meals, accepting his cheat food of choice (unlimited Korean barbecue) and indulging his occasional hangry moment.
"I couldn't do it without her because I was a bit grumpy sometimes, but she was understanding and patient ― even though she was the pregnant one," he said.
Yep, you read that right: In May, the couple announced on Instagram that Nichola is expecting their first child! 
Baby Gwon is due to arrive in November. Meanwhile, Nichola says she couldn't be more proud of how far her husband has come. 
"I know how hard it was for him," she told HuffPost. "I'm so impressed at all the changes he's made so he can be a supportive and healthy husband and father."
To follow the couple's baby journey, check out their Instagram and their web comic.